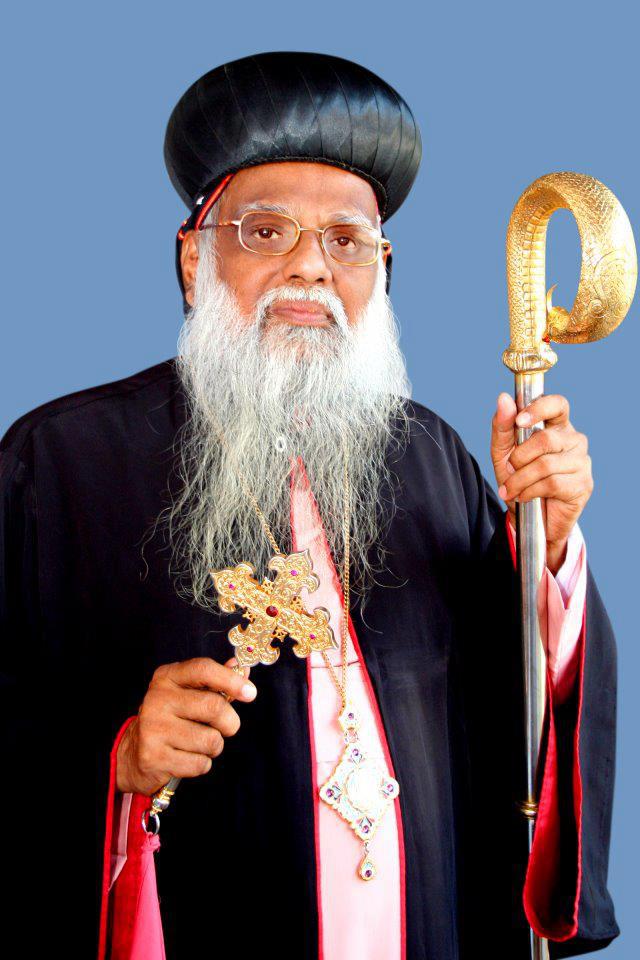 H G Paulose Mar Pachomius, Metropolitan of Maveliakara Diocese went to be with his Lord on Aug 1st, 2012. His demise was at Lakeshore hospital. Funeral will be held in Bethany Ashram on August 2nd at 3PM. Holy Qurbana will start at 6:30am tomorrow in Theo Bhavan Bishop House.
H.G.Paulose Mar Pachomios was born as the second child of Mr.K.K .John and Mariamma John on the 26th of January 1946 in Kolathukalathil Neysseril family, Kurichy. H.G's family had the great tradition of holy fathers like saint Geevarghese Mar Dionysius of Vattasseril and His Holiness Moron Mar Baselius Geevarghese 2nd Catholicose. H.G. along with his four brothers and a sister developed a spiritual and disciplined life from his childhood. H.G's father was an educationist and academician and served as the District Educational Officer and office manager of Catholicate Schools. As a member of Kurichy St.Peter's and St.Paul's Valiyapally he inherited the rich spiritual experience and tradition of the church in his early childhood.
Mar Pachomios was one of the leading retreat fathers of the church. As the visitor bishop he shows the path and light to many monastic communities. Kizhakkambalam Bethlahem St Marys convent, Ranni Holy Trinity Ashram are in the pursuit of holiness under the guidance of Mar.Pachomios. His services as a humanist and missionary are inestimable. He served as the President of St. Thomas Balabhavan Haripad, Mar Dionysius old age Home Chepadu. It was his effort and leadership that made Theo Nivas Pazhamthotam a reality.
Initially His Grace was given full time charge of Idukki Diocese and Assistant Metropolitan of Angamaly Diocese. Later, His Grace was relieved of his charge of Idukki Diocese and given charge of the newly formed Mavelikkara Diocese. Since 2005, His Grace was given the full time charge as Metropolitan of Mavelikkara Diocese. His Grace was the Visitor Bishop of Bethany Ashram and one of the Vice Presidents of MGOCSM. His Grace has also served as the President of Martha Mariyam Samajam and as the Catholicate and MD Schools Corporate Manager.