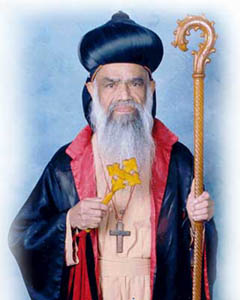 H G Mathews Mar Barnabas Metropolitan (88) went to be with his Lord on Dec 09th, 2012. His demise was at Pushpagiri Medical college hospital, Thiruvalla. He has served as the Metropolitian of Angamali, Kottayam, Iddukk, North East American diocese.
H G was born in Kallarackaparampil house at Vengola, to Kuruvilla & Mariamma of the Kidangethu Thombra Family, on August 9, 1924. He did his intermediate studies at C.M.S. College, Kottayam, B.Sc. Degree course from Christian College Madras and M.Sc. degree from Osmania University. In addition to this he had B.D. degree from Serampure University and higher studies in Greek language and literature at Leonard Theological College at Jabelpur.
He was ordained as a Deacon in 1943, and as a Priest in 1951. He was ordained as Qorooyo by His Holiness Moran Mar Baselios Geevarghese II, Catholicose of the East, at Thuruthiply Church in 1943. On May 15, 1978 His Holiness Catholicos Moran Mar Baselios Marthoma Mathews I, Catholicos of the East, consecrated him as Metropolitan Mathews Mar Barnabas of the Malankara (Indian) Orthodox Church.
He became the first Metropolitan of the newly formed Idukki Diocese on 1st June 1982.has authored more than 25 enduring and scholarly books in English and Malayalam languages. 'A hand book of Holy Eucharist: A meditative study' is the first book. 'Prayers for various occasions' is another remarkable book. Another important work is the 'meditations for all the days of a year.' In 2011 His Grace has published his small autobiography with the title 'Beneficence of God'.
On January 18, 2011, His Holiness the Catholicos of the East And Malankara Metropolitan, Baselius Mar Thoma Paulose II, formally accepted His Grace Mathews Mar Barnabas' request to be relieved from administrative responsibilities as Diocesan Metropolitan of the Northeast American Diocese.